Whether their businesses are making strategic shifts or supporting a growing remote workforce, IT departments have been the stabilizing force keeping workers productive, secure, and happy in 2020. And many rely on the cloud to help them reduce high-maintenance infrastructure, enable flexible working environments, and maintain the highest level of security for their employees. According to a recent study conducted by Forrester, 85% of enterprises either have a cloud-first strategy or are prioritizing cloud for select use cases1.
Whether transitioning a call center to a work from home environment like Synchrony Financial, or migrating 4,000 government employees to a solution that ensures essential public services can be provided remotely like the London Borough of Hackney, IT departments have been tasked with providing innovative solutions to keep their businesses running. Challenged to provide a remote working experience without physical access to the user, device or network, IT departments are turning to Chrome Enterprise to keep business running.
In this post, we'll share three reasons why businesses are making the switch to Chrome Enterprise. We'll also introduce resources and features, including a recent Chrome Enterprise deployment report, a new solution for running full-featured and legacy applications, and new functionality currently available with Chrome 84 that helps IT departments reach their technology goals.
Reason 1: Chrome Enterprise improves operational efficiency throughout the entire device lifecycle
Chromebooks can help IT admins achieve a high standard for security, end user productivity, and IT oversight, all at a lower cost than the competition. However, total cost of ownership is about more than just saving on device cost; it's about improving operational efficiency. Customers see time savings throughout the entire device lifecycle—from the initial deployment of a device, to redeploying Chromebooks to new users, to deprovisioning a device when it's at the end of its life.
Recently, Enterprise Strategy Group (ESG) ran a study to define the time savings throughout the lifecycle in comparison to deployment of PCs. In their lab, ESG reported on the steps required to deploy, redeploy, and deprovision devices, along with the amount of time it took. Their study found a 76% time savings during device deployment, a 96% time savings during redeployment to new users, and a 92% time savings during deprovisioning when using Chromebooks over PCs. To read more about their findings, check out their report.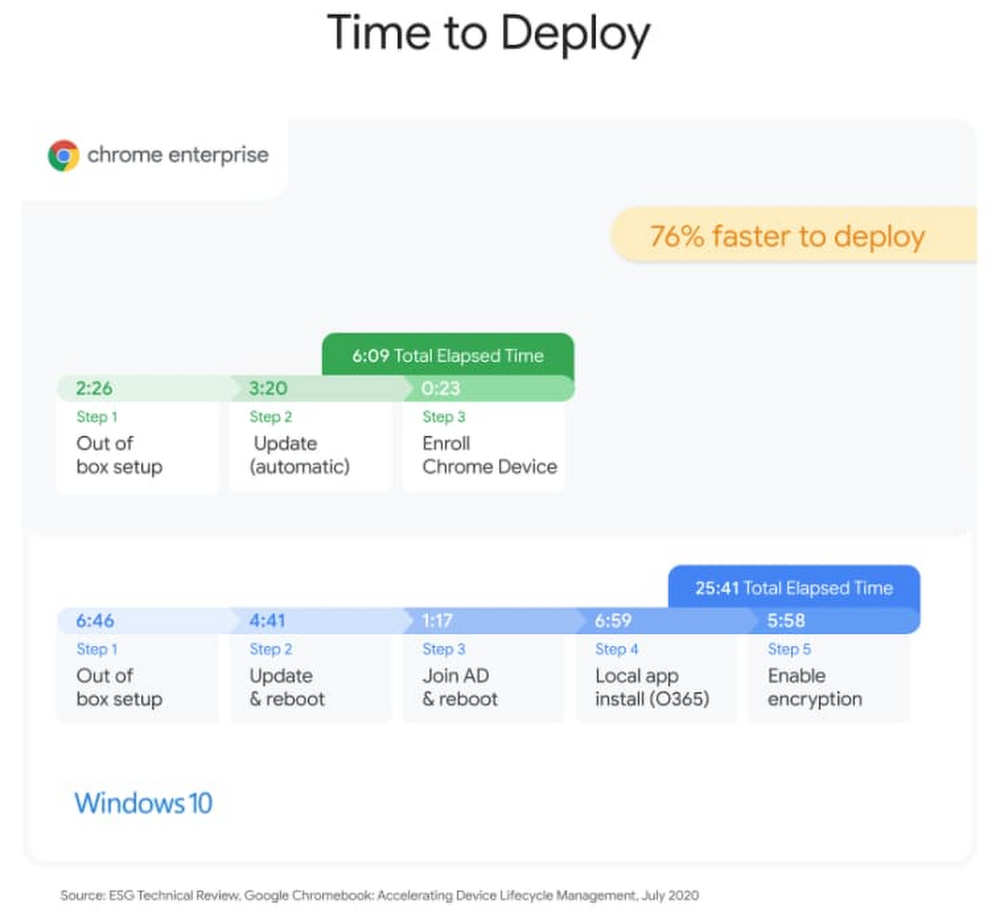 Reason 2: Chrome Enterprise provides a bridge for full-featured and proprietary enterprise applications
Whether accessing websites, progressive web apps or Android Apps, Chromebooks provide a surface that promotes secure collaboration across each of these ecosystems. However, as businesses move workflows to the cloud, they may still need access to some proprietary and full-featured legacy applications to keep workers productive.
We recently announced a partnership with Parallels Desktop to provide IT departments a solution to bridge the gap as they transition to alternative cloud-based applications. Three facts to know about the solution as we move toward launch:
Parallels Desktop runs locally on Chrome devices within a Chrome OS user session—no internet connection required.

Parallels Desktop for Chromebook Enterprise is designed for business users. IT administrators can enable access to devices that are enrolled with Chrome Enterprise Upgrade only.

Parallels Desktop for Chromebook Enterprise will be available for purchase through select Chrome device manufacturers and reseller partners.
To be notified when Parallels Desktop for Chromebook Enterprise is available, please fill out this form to stay up to date. You can also visit the Parallels Desktop site here.
Reason 3: Chrome Enterprise continuously evolves to enhance security and user experience
With OS updates that happen in the background, end users have access to the most recent feature enhancements and security updates without interruption. Chrome OS has new updates every six weeks that improve experience for both end users & IT.
Recently, we launched Chrome 84, which introduced new end user productivity and IT oversight features. Some of these include:
Easier extension and app management: Admins can now add domain-restricted apps and extensions from Chrome Web Store within the Google Admin console, making it easier to manage and deploy custom extensions for enterprise users on both Chrome OS and Chrome Browser.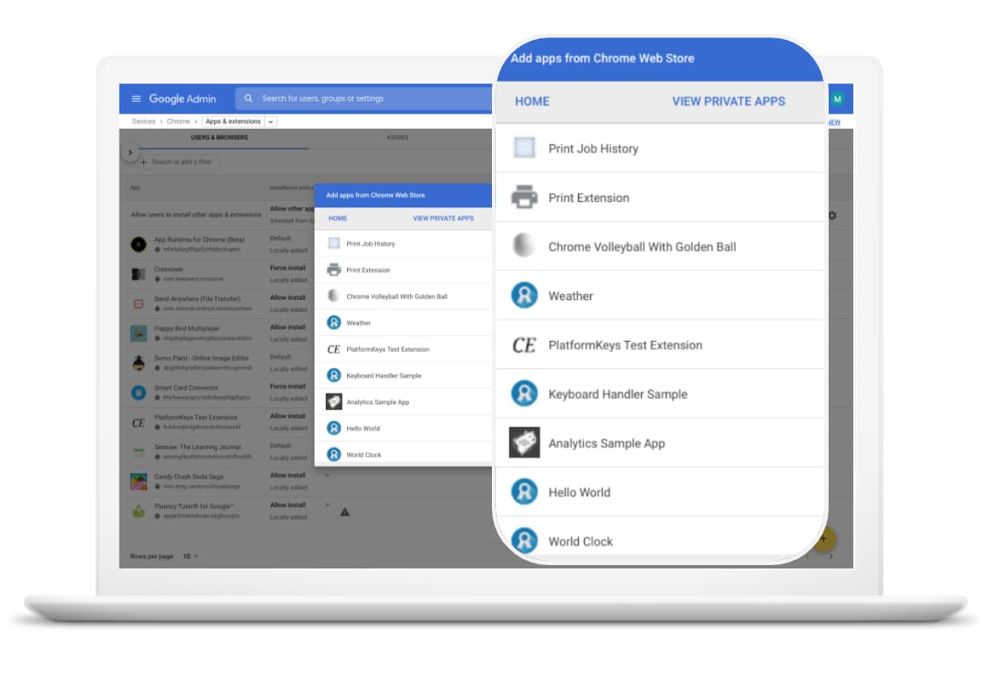 Enhanced overview mode: In overview mode, drag windows to the left or right edge to quickly split the screen. Overview mode also now supports multi-monitor setups, where windows can be moved between overview mode across two displays.

Accessibility management for Chrome OS devices: Fifteen new policies have been added to the Google Admin console to improve accessibility for Chrome OS device users. These policies enable accessibility features by default or restrict access to them. Accessibility policies include spoken feedback, screen magnifier, larger cursor, and select to speak.
To dive deeper into Chrome 84, check out our release notes, and to be updated whenever new release notes are available, please be sure to sign up for email updates with this form.
And lastly, as today is Sysadmin Appreciation Day, we'd like to take a moment to thank all IT administrators for not only supporting your businesses through good times and bad, but for continuing to find innovative solutions that keep businesses moving.
---
1. Cloud Workers Are Key To Disruption Preparedness, a commissioned study conducted by Forrester Consulting on behalf of Google, May 2020
Read More for the details.