In the middle of summer we was informed about three brand new exams for Azure Administrators. As I mentioned in that article this is a good opportunity for IT experts who needs role-based Azure cert. Nevertheless this role-based approach could be strange from Microsoft. Hence we felt there would be some serious changes around Microsoft Certs, and there you are. Microsoft says: Shake it up!
Three days ago a new new was came up: "The current Azure certification that have been providing the Azure focused core to the MCSA: Cloud Platform and MCSE: Cloud Platform and Infrastructure certification paths are going to be retired December 31, 2018. However, the MCSA and MCSE certifications are not being retired, but rather transformed instead."
Affected certifications
This means the following exams will be retired by the end of this year:
70-532: Developing Microsoft Azure Solutions
70-533: Implementing Microsoft Azure Solutions
70-535: Architecting Microsoft Azure Solutions
Additionally the existing / old MCSA and MCSE certifications based on them are also being retired.
Good news or bad news?
Oogway (from Kung Fu Panda): Ah, Shifu. There is just news. There is no good or bad.
I guess the is a new career path for that people who would like to choose Azure exam according to their role.
Future mode of certification
What's next? Merely we should get used to the new certification model and logo…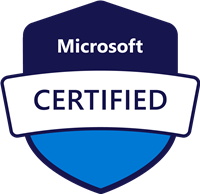 …and start to be prepared to the new role-based exams.
The next 6 job roles have role-based certification paths soon:
Azure Administrator
Azure Developer
Azure Solutions Architect
Azure DevOps Engineer
Microsoft 365 Modern Desktop Administrator
Microsoft 365 Enterprise Administrator
For more details please read the following articles:
In the near future I hope we will have as many as information we need for taking these new exams and transition exams. 🙂